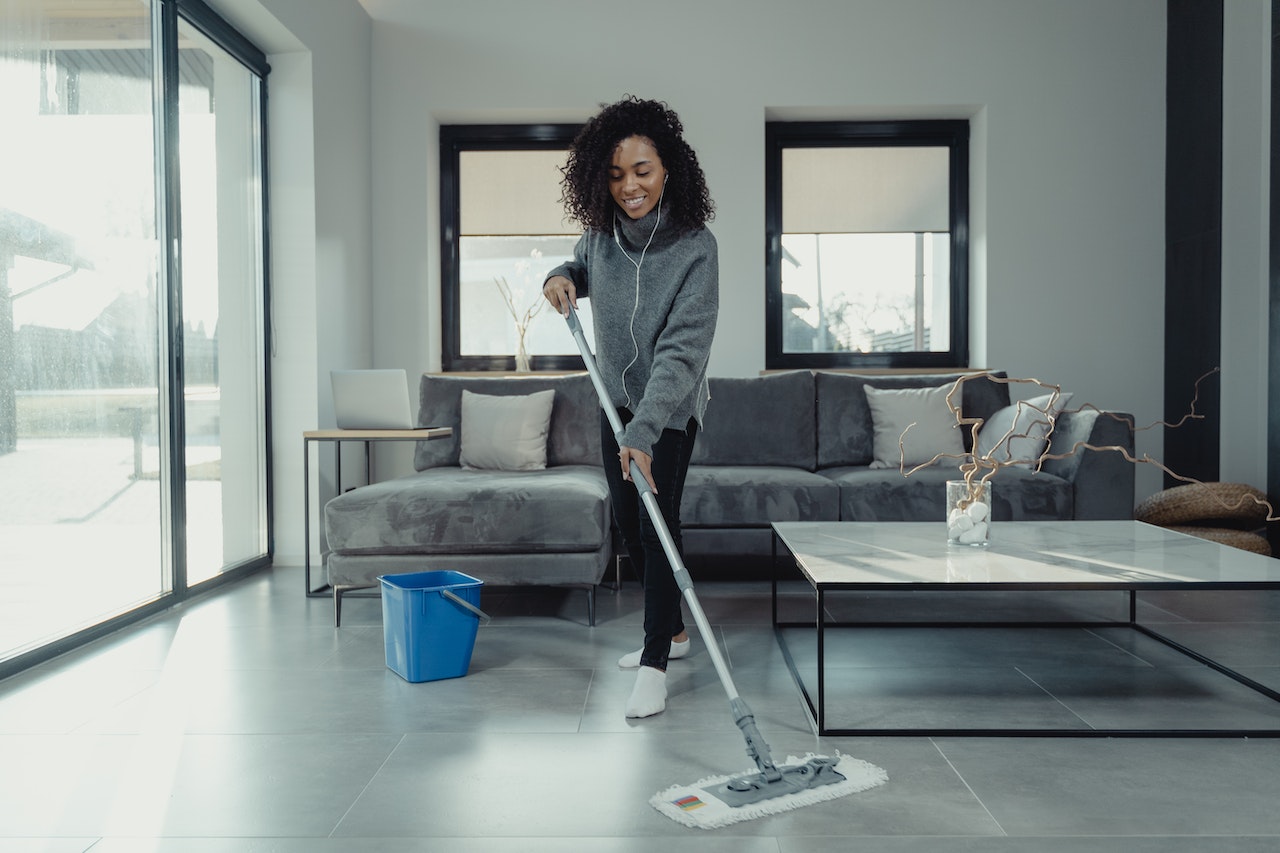 Even if you clean your home on a daily basis, it will still require occasional deep-cleaning. Deep-cleaning of the house means that you will have to disinfect not only the surfaces in visible places but also the corners and areas that are difficult to reach. It involves vacuuming, dusting, and scrubbing. This is an important task not only because you want your home to look tidy, but also because it will stop the spread of viruses and bacteria. Since deep-cleaning can be time-consuming you can always hire a professional cleaning company that will clean your home inside or out such as Peak Services to help you keep your home well-maintained. But if you decided to spruce up your home by yourself, you should know how to deep-clean every room in your house properly.
What do you need to do before you deep-clean every room in your house?
If you are trying to keep your new home clean inside and out apart from regular cleaning you should deep-clean it from time to time. But before deep-cleaning every room in your house, there are a few steps that you should complete in order to make this whole process more efficient:
Declutter: Before you start deep cleaning your home it would be good to remove all the clutter. Make sure to remove all the items that don't belong in a particular room. You can throw them away, sell or donate them.
Make an action plan: Make sure to determine the order in which you will clean your home. Some people prefer to clean the floors first, while others think it is more efficient to dust surfaces before vacuuming.
Gather cleaning supplies: In order to organize your deep cleaning it is important to have all the supplies that you will use. Make sure to have a vacuum, mop, cleaning solutions, microfiber cloths, masks, and gloves.
Protect your belongings: While deep cleaning it is important that your furniture is protected. Therefore, cover it with plastic or sheets and remove any fragile items that might be damaged during the deep cleaning.
Ask for help: Deep-cleaning can be a big job, so consider enlisting the help of family members or friends. Assign tasks and work together to make the process go more smoothly. Also, ask for help from professionals in case you need help with the exterior of your home as well. For example, maybe solar panel cleaning for your Summerlin home is just what you need.
Room-by-room guide
Once you prepare yourself and contact cleaning services for the exterior of your home such as residential solar panel cleaning it is time to start deep-cleaning the interior of your home. The best way to do that is it is to clean each room at the time. You may decide on the order yourself, but it is important to be organized. Otherwise, you may miss some spots or even make a bigger mess in your home.
Kitchen
Deep cleaning your kitchen may seem like a daunting task, but with a plan and good scrubbing, you can have your kitchen sparkle in no time. So, once you remove all your clutter from the kitchen you may start your deep-cleaning. First of all, clean the oven by removing the oven racks and cleaning them with hot water and soap. Also, use oven cleaner to clean the interior. Then empty the refrigerator and remove all shelves and drawers. Clean them with warm soapy water and wipe down the interior with a mixture of water and baking soda. Then it's time to clean other small appliances to remove any build-up grime.
Once you are done with appliances move on the cabinets. Use a damp cloth or sponge and a mild cleaning supply to wipe down the cabinet doors, handles, and interior shelves. For tough grime, use a scrub brush or sponge. Lastly, wipe down your countertops with a damp cloth or sponge and a cleaning supply appropriate for the material of your countertop. For stubborn stains, use a baking soda and water solution and let it sit for a few minutes before scrubbing.
Bathroom
Among all rooms, there is no doubt that deep-cleaning the bathroom is one of the most important tasks. Since the bathroom is the place where bacteria and germs breed it is advisable to deep-clean it at least once a month. Just like hiring solar panel bird control services in Summerlin NV are important because of the environment and good health condition on your property, deep-cleaning your bathroom is crucial for the hygienic conditions in your home.
Begin by removing any dust from corners and the ceiling and vacuum the floors to remove any hair or debris. Then clean the toilet by using a mixture of baking soda and vinegar. Leave it for a couple of minutes and then scrub the toilet bowl. Move on to the sink and shower tub by using designated cleaner supplies and ensure to rinse it thoroughly. At the end clean the mirrors and vacuum the floor. This way you will ensure that your bathroom is clean and bacteria-free.
Bedrooms
In order to maintain a healthy and comfortable living space it is crucial for your bedrooms to be clean and tidy. Even though you don't spend much time in the bedroom it is still a room where you sleep so it should be always clean and dust-free. To clean your bedroom make sure to first remove all the clutter and dust all surfaces. This means that you should vacuum your furniture, carpets, and floors. Clean your windows and sills, as well as mirrors if you have any in your bedroom. Also, make sure to wash all the bedding and curtains and air out the room. All this will ensure that the room where you sleep is clean and with no dust.
On the other hand, sometimes cleaning just the interior of your house will not keep your rooms clean. Therefore, if you would like to have clean and shiny windows in your bedroom pigeon control in Summerlin NV services is something that you should consider. That way you will not have dirty and messy windows because of the pigeons' droppings.
Living room
Just as it goes for the bedroom, in order to keep your living room clean consider bird control services. That way your effort for your living room to stay clean will not be in vain because of the dirty windows. The living room is probably the place that requires the most thorough cleaning because it is the room where you and your family spend most of your days. For that reason, it is the room that collects most of the dust and dirt. As with any other room before you start your deep-cleaning make sure to declutter and remove all the items that don't belong in the living room such as toys, clothes, etc.
After decluttering you can start by dusting everything. Use the microfiber cloth and clean all the surfaces in the room. This includes shelves, lamps, picture frames, decorative items, etc. Also, don't forget about the areas that are hard to reach such as ceiling fans. Once you are done dusting you may move on to cleaning windows, mirrors, and other glass surfaces in the room by using a microfiber cloth. Then vacuum the carpets and the floor. Lastly, mop the floor and make sure to disinfect everything by using a spray or wipes. 
Laundry room
Before you start deep-cleaning your laundry room make sure to remove all the items that don't belong in the laundry room. Make sure to organize it and put all the cleaning supplies, detergents, and fabric softeners in their designated areas. Then use the cloth to remove dust and make sure to vacuum the floor. Don't forget to move all the appliances and vacuum behind them as well.
The most important step when cleaning the laundry room is to clean the washing machine and the dryer. To deep clean, the washing machine runs a cycle with hot water and white vinegar. And to clean the dryer make sure to remove debris and clear vents. Wipe down the exterior of the dryer with a wet cloth. lastly, disinfect the room with a spray or wipes.
Attic
Certainly, the attic is not the place that you clean regularly as the other rooms in your home. For that reason, deep cleaning of the attic is crucial. Before you even start with the cleaning have in mind that an attic is probably a place with the biggest amount of dust, therefore you should wear a mask. As with any other room, you should declutter first and organize the belongings that you will keep. Use a vacuum cleaner for the floor, and pay special attention to corners because of the amount of dust that might have built up there. Dust all the surfaces and double-check that your attic is pest-free. Once you are done with deep-cleaning you may use the spray to eliminate the musty odor from your attic.
Garage
Even though it is not located inside your home, the garage is an important part of your house. Thus, when you deep-clean every room in your house you should take proper care of it just as you would do with the living room. Cleaning a garage can be challenging because it collects a lot of dust. So when you are deep-cleaning your garage ensure that you sweep and dust everything. Clean the shelves and return all the items to their designated space. In order to wash it properly it is advisable to use pressure washing Las Vegas services. This will ensure that all the germs and debris are washed away and your garage will sparkle.
To avoid getting your garage dirty quickly consider installing artificial turf in the yard and in the areas close to the garage. Artificial turf is low maintenance and easy to clean. Also, you can hire professional cleaning services such as turf cleaning services in Sumerlin NV, or any other location you are based in. This will ensure that both your garage and your home are maintained clean and have less dust.
Get professional cleaning services
In order to deep-clean every room in your house you should consider hiring professional cleaning services. Professional cleaners are trained and experienced in cleaning all types of spaces. They have the knowledge and expertise to clean your space thoroughly, using the most effective cleaning techniques and equipment. Professional cleaners use high-quality cleaning products and equipment to eliminate germs, bacteria, and allergens. Also, they use pressure washers that will make your home glow. And since there are many benefits of pressure washing your home this can be a great solution to improve indoor air quality and reduce the risk of illness. Overall, hiring professional cleaning services means that you will leave in a clean and healthy environment as well as save time and money in the long run.
Make every room in your home sparkle
Having a clean home is crucial for you and your family. And not only because you want your home to look tidy but to avoid any bacteria and germs gathering in your home. Therefore, occasional deep-cleaning is a must. But in order to do it efficiently you should know how to deep-clean every room in your house and ensure you don't miss any corners. In case you have a busy schedule you can hire professionals to do this instead of you. Whatever option you opt for rest assured that your house will be sterile, bacteria-free, and safe space for you and your loved ones.