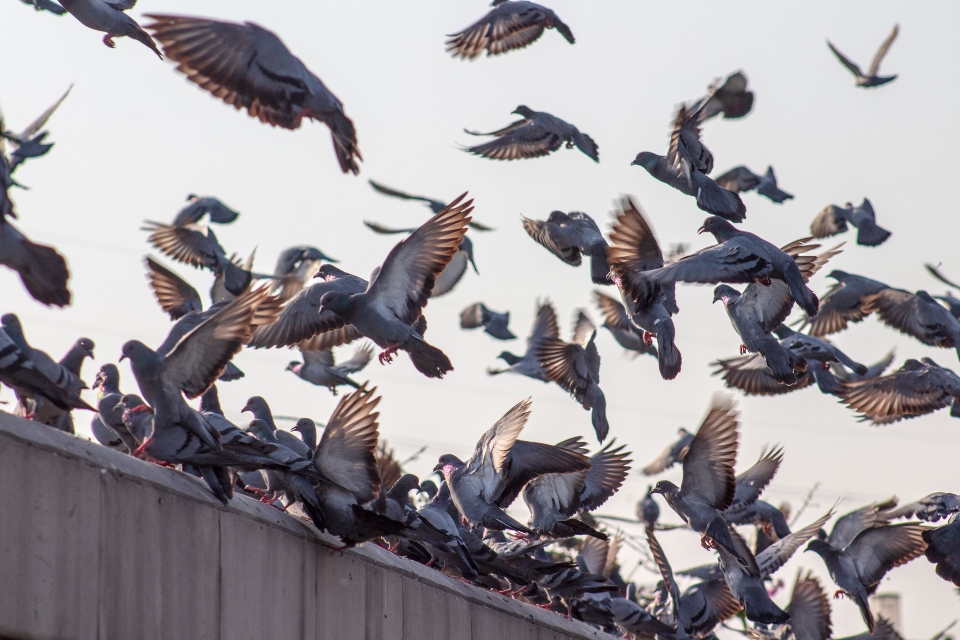 One of the greatest pleasures of being a homeowner is having a clean home. There's nothing like enjoying your beautiful green backyard, your garden with a gazebo, or even your porch. However, there are times you will have trouble maintaining this cleanliness. There are many issues that can arise, and one of them is pigeon infestation. And we all know what that means. If you have experienced this, then you know how difficult it can be to get rid of the birds. But, in order to help you to manage a pigeon infestation, Peak Services experts offer a great set of tips you can use. Continue reading this article and find some of the most valuable information for home cleanliness.
Pigeons can cause more than uncleanliness
Even though pigeons can cause some of the most unsightly messes you have ever seen, that's not the only problem they can create. Pigeons can actually cause damage to your roof, especially if you have solar panels on it. Pigeons are naturally attracted to warm, dry, and protected places where they can nest. Unfortunately, solar panels provide the perfect conditions. However, if pigeons create nests underneath them, it can cause your expensive equipment to stop working. They will limit the airflow and increase the heat, which will slowly and gradually ruin your solar panels. Therefore, you need to make sure you do everything you can to prevent it.
What can you do to manage a pigeon infestation?
If pigeons are already on your property and are creating chaos, there isn't much you can do. The best thing, in this case, would be to call in pigeon removal North Las Vegas experts – they will take care of this problem for you. There is no use trying to do it yourself since you can only get hurt in the process. If you want something done right, leave it to the professionals who know how to handle it.
However, if you are an animal lover and concerned for the environment, know that the experts will remove the pigeons in an ethical way that will not harm the birds. So, you can rest assured that both your home and the birds will be safe.
Prevention is critical to avoiding an infestation of pigeons
However, there are certain things you can do to prevent this from happening in the first place. Or, if you already had a problem and solved it, to prevent it from happening again. Prevention is critical to avoid any kind of problems in the future. In order to prevent the situation and to have to call pigeon control Henderson, you can regularly perform some of these minor tasks:
Keep the surroundings in order – Turf cleaning is especially important when it comes to learning how to manage a pigeon infestation.
Regularly inspect your roof and gutters – Performing a regular inspection can save you from a lot of trouble in the future.
Install prevention devices – A few smart devices help you to prevent pigeons from ever nesting around your home in large numbers.
Turf cleaning should not be neglected if you want to manage a pigeon infestation
Perhaps you already had a problem with pigeons, and the experts from bird control Summerlin NV handled it quite nicely. But does this mean that other pigeons won't come to cause you more problems? Unfortunately not. Other birds will always choose your home if there is something that attracts them to it. This is why you have to be very careful. One of the most common things that attract birds is large trees. If your home is surrounded by beautiful large trees, it can mean that you will inevitably have a bird issue.
Luscious trees with numerous branches make beautiful homes for birds, and it's not likely that they will leave it. Nevertheless, you don't have to cut down the trees. Regularly trimming their branches will do the trick. Moreover, you can employ turf cleaning services once in a while to maintain the surroundings of your home. If you do this regularly, it will definitely help in preventing and managing a pigeon infestation problem.
Don't forget to check your roof and gutters
This is a straightforward task that you can actually perform every day. When you walk outside of your home, simply look up and check if there is anything unusual. You don't even have to climb on top of the roof. A simple check from the ground will suffice. This is exceptionally beneficial if you have solar panels since discovering bird problems on time can save you from a lot of trouble in the future
Install devices that will prevent birds from causing damage and uncleanliness to your home
Specific devices can be really helpful in helping you to manage a pigeon infestation. There are more common and more advanced ones. Most people base their choice on the device's efficiency and appearance. Some install spikes, but spikes are not very attractive to look at. Others use more fancy equipment, like ultrasound devices. This is more efficient, but it is usually quite expensive. If you have solar panels on your roof, installing solar panel protection devices would be best since pigeons can damage your equipment, as you can read above.
Final words
Hopefully, after reading this article, you will be able to manage a pigeon infestation. Remember that hiring professionals to help you with this is always the best choice. However, there are some excellent prevention tips you can incorporate. Don't forget to check your roof regularly, install some devices that help keep birds away, and make sure the surroundings are kept in order.