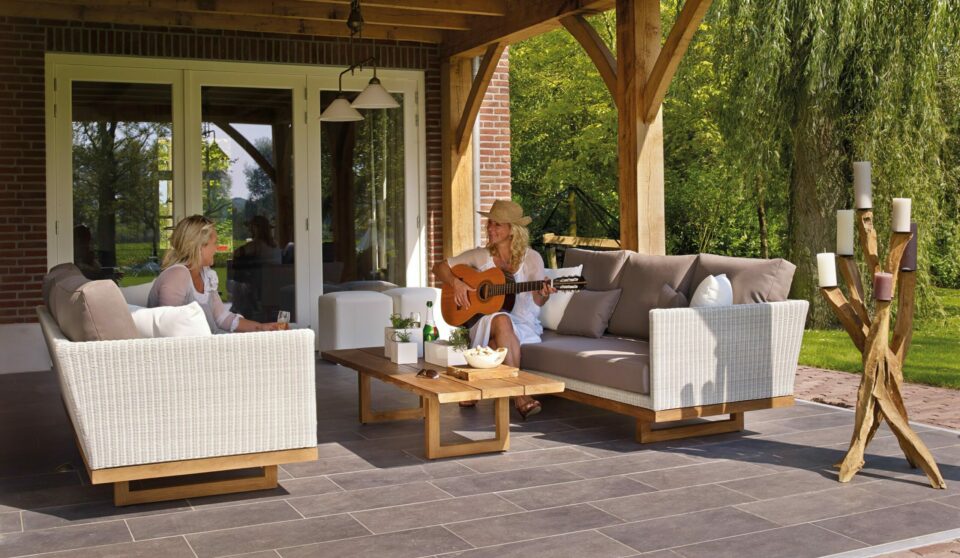 The first thing anyone sees before entering your house or business is the outdoor area, deck, or patio. Keeping them clean is very important, as they are a "sneak peek" into your home, establishment, and you. Peak Services offer residential and commercial maintenance services throughout Las Vegas and help people keep their outdoor areas spotless. Now, let's talk more about how you can protect and clean outdoor surfaces the smart way.
You could pressure wash your deck
This could be the most time consuming task, so why not get it out of the way first? By doing this, you are adding longevity to your outdoor areas while removing mold, of course. No matter if your deck or patio is concrete or wood, they will benefit from pressure washing. If you prefer professionals to do this, you can find great pressure washing Las Vegas companies that will make your outdoors look brand new.
It's important to remove all furniture, decoration, and plants before doing this. Pressure washing could damage fragile items, so make sure everything is safe. If you are hitting professionals, they will most likely use less water than your water hose would, which is beneficial.
Mopping and sweeping regularly are essential
Doing a little work each day will save you days of stress if you "leave it for later." That is why doing a little mopping and sweeping each day or every other day is essential for keeping your outdoor surfaces clean.
Sweeping with a stiff broom is probably the best way. While spot cleaning is better with a long-handled scrub brush. While you're doing little mops every now and then, try to do a big mop once a month where you can remove dirt, debris, and beverage spills.
Bird control will help you protect and clean outdoor surfaces
While you might love birds, we all know how annoying it can be having them around our roofs and windows when we are trying to rest or have quiet time. Those who own solar panels pay extra attention to keeping pigeons and other birds away from their roofs. Bird Control Enterprise NV advises all solar panel users, as well as those who don't have one yet, to get some sort of bird control and protect their homes and businesses from unwanted stains and smells.
When it comes to Peak Services, with modernized equipment and maximum efficiency with minimal risks, we have installed plenty of bird control devices that have kept people's homes and businesses clean and fresh, and most importantly – bird free. You would be surprised what a difference bird control north Las Vegas can offer would make.
Keep your turf fresh
Even though this is considered low maintenance, artificial grass needs to be cleaned too. By keeping your turn fresh, you will make your property look better. Daily maintenance is the best option if you have the time to do so. If not, you might want to think about Las Vegas Turf Cleaning Services and have your turf cleaned by professionals.
Protect and clean outdoor surfaces by keeping the sitting area tidy
Too much sun, rain, snow, or any other natural condition can affect your outdoor area, especially the sitting area. You could spruce it up by cleaning the surface dust and vacuuming before adding any soap. By doing this, you will protect your outdoor furniture from stains that can't be washed even with machines. When you're cleaning the outdoor area, make sure you are not using anything harsh that could scratch the surfaces. You can make your own cleaning mix using gentle laundry soap and borax, this will be easy on your furniture. It's always fun buying pretty stuff for our patios, decks, or balconies. However, keeping them clean and tidy is necessary or you will end up with a pile of dirty and decayed decor that will annoy you.
To protect and clean outdoor surfaces, machine wash whatever you can
If there are items in your yard, on the deck, or patio, that are able to be washed in your washing machine, throw everything in. Things such as table covers, soft cushions, or chair seats are usually easily washed and dried, so make sure you give them a wash every now and then to keep them clean and comfortable.  Some umbrellas over tables are also washable in the machine, make sure you check if they are, and don't waste time and money going to cleaners. You can even machine wash your hammocks. Check every item you think might be tossed in the washer.
Clean the playing equipment
In case you have a wading pool, a sandbox, or any other play equipment, it's important to clean it, wash it or cover it when necessary. When it comes to sandboxes, it's best to cover them when they're not being used, since animals love dumping trash whenever they find a sandbox. You can use a solution of 50 grams (1/4 cup) of baking soda in four liters (four quarts) of water to clean your wading pool. For swings and slides, you can use warm soapy water and a soft-bristled brush to remove any stains, handprints, etc.
Search for the best commercial and residential maintenance services in Las Vegas
If you either don't have time to protect and clean outdoor surfaces or you prefer for it to be done by professionals, you will find what you're looking for with Peak Services. When it comes to efficient solar panel cleaning, bird control, and turf cleaning, working with us is the smartest decision to make. Instead of cleaning and keeping everything under control, you could be using that time for something else while professionals are taking care of your outdoor areas. Let's see what your yard needs!