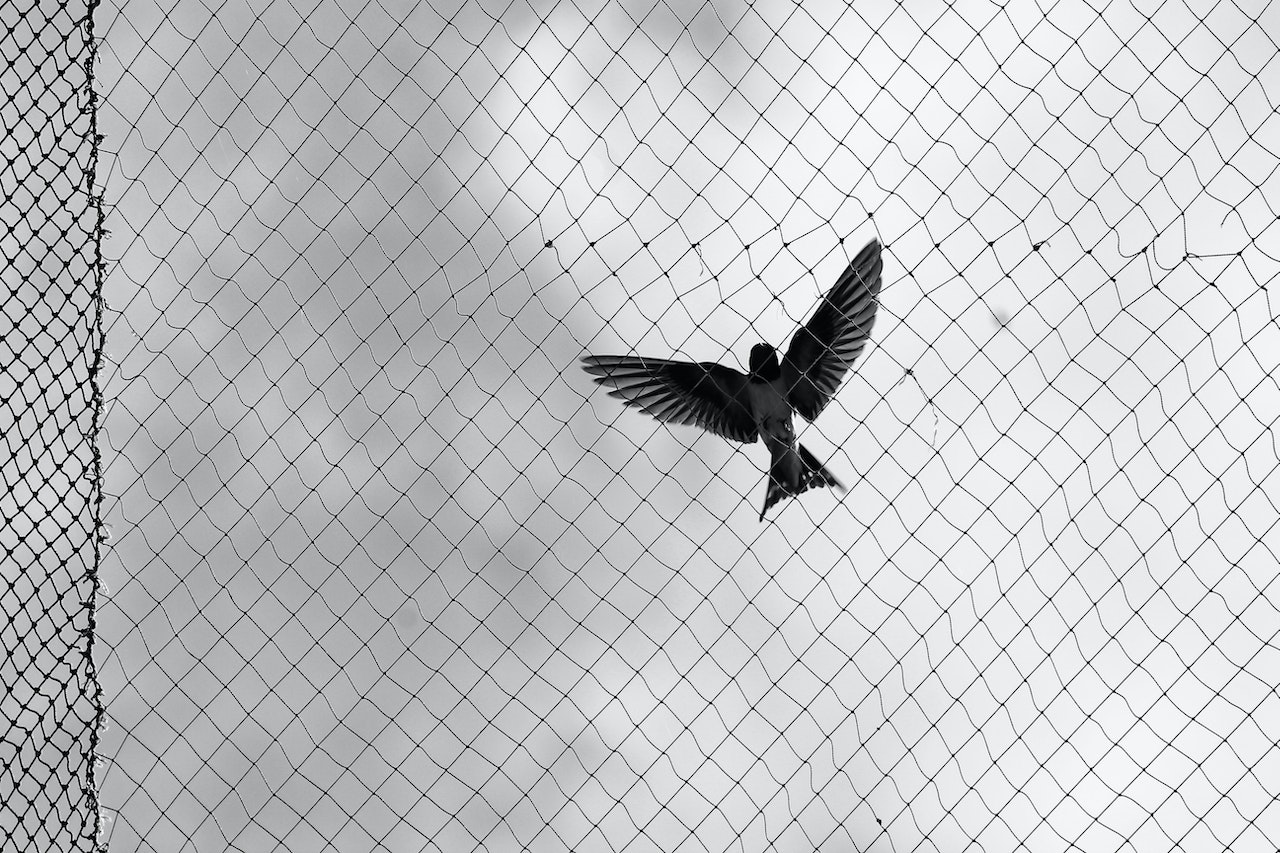 If birds decide to turn your home into a feeding, roosting, or nesting area, it can be a real issue. Bird droppings can cause many diseases, some of them being very harmful. The most likely culprits are sparrows, gulls, house myna, pigeons, and starlings. However, with professional netting installed skillfully around your property, you'll avoid nasty and toxic droppings that block vents and drains. Peak Services offer insight into how effective is bird netting. One thing is for sure, scattered nesting materials cause aggressive behavior, physical damage, and more. Keep reading to find out what are the pros and cons of bird netting if you are facing these issues.
What is bird netting?
Bird netting is a type of bird control measure that uses nets to keep birds away from certain areas. People commonly use it, as it's one of the most humane ways to stay clear of bird infestation. It can also be used to keep birds away from other areas such as agricultural and industrial facilities, facias of buildings, and more. If you are in need of bird control Summerlin NV residents already use and love, you are in the right place.
Types of bird netting
Bird netting is made from different sorts of materials. Some of them are nylon, polyethylene, and stainless steel. Nylon is lightweight and easy to install, while polyethylene is more long-lasting and it's used mostly for industrial purposes. Stainless steel bird netting is the strongest type of bird netting and is commonly used in areas where bird control is of predominant importance. Before hiring pigeon removal Henderson offers, here are some of the most common bird netting types:
No knot bird netting – this type of bird net prevents birds from entering unwanted areas, like roofs and warehouses. This type of netting can also be waterproof;
Pop-up bird netting – it is best used for personal properties, and it's usually made from Polyethylene, it's one of the most commonly used types of nets;
Wire Row Cloche – made out of galvanized steel, it's best used for vegetable and flower gardens.
How effective is bird netting and what are their benefits
Bird netting is a great way to keep pesky birds at bay. But you'll need high-quality nets and skilled installers for the best results. Here are some of the biggest benefits of bird netting.
It's the best preventive measure
Bird netting is a great way to keep birds away from your business or personal property. It not only keeps birds out of your windows and rooftops, but it also discourages them from nesting or roosting in other areas around the building. Bird netting experts will know the best place to position this so that it can help protect your home from unwanted pests. It will additionally prevent from bird droppings health risks that may occur.
It's the most humane solution for bird infestation
Anti-bird netting is one of the most humane and effective ways to keep birds away from buildings. This is because it acts as a barrier, not a trap. Netting is put over areas of a building where birds nest or roost, such as ledges or sheltered spots. Once the netting is in place, birds will not be able to access this area and will move on to find another spot to nest.
They provide light and air
When you need bird netting, you want to be sure that the material doesn't block light or reduce the amount of air entering your building. That's why it's important to hire a professional installer–an expert who understands the importance of using a mesh that won't impede these elements. This is especially important if you want them over your solar panels. Solar panel cleaning enterprise NV residents trust often recommend installing these nets for areas that are bird infested.
Bird settings are cost-effective
Bird netting is an effective and inexpensive bird deterrent. It can last for over seven years, and the maintenance required is less than many other methods. A skilled installer will advise you on how often to maintain your bird netting. If you don't maintain it properly, bigger problems can result. Pigeons are rather stubborn and persistent birds and a hole in a net will not go unnoticed. Before you know it, one pair of pigeons have turned into a flock who are happily roosting in your roof space. Wrongly installed nets can also result in birds getting tangled and hurt so we would advise that you get your bird netting checked annually, ideally before nesting season begin.
Cons of using bird netting
If you don't install netting correctly, it can be a hazard to birds. If a bird lands in the netting, it can get trapped inside or become tangled in the net; either way, this is not good for the bird. Smaller birds like sparrows are particularly at risk because they could get their feet tangled up in the netting. If you're planning to use netting, it's important to think about these risks before making a decision. There are some alternatives such as green lasers, reflective surfaces, and bird decoys.
How effective is bird netting: Conclusion
Netting is a great way to stop pesky birds from nesting on your property or infesting it with their droppings. It's a great solution for both business and personal use (for gardens and windows). Bird netting, if used properly, will deflect birds from landing on a building. However, keep in mind that they need to be installed by a professional, to avoid any injuries. Before making a final decision, think about all the risks that might come from it. If you are still wondering how effective is bird netting, don't hesitate to give us a call.