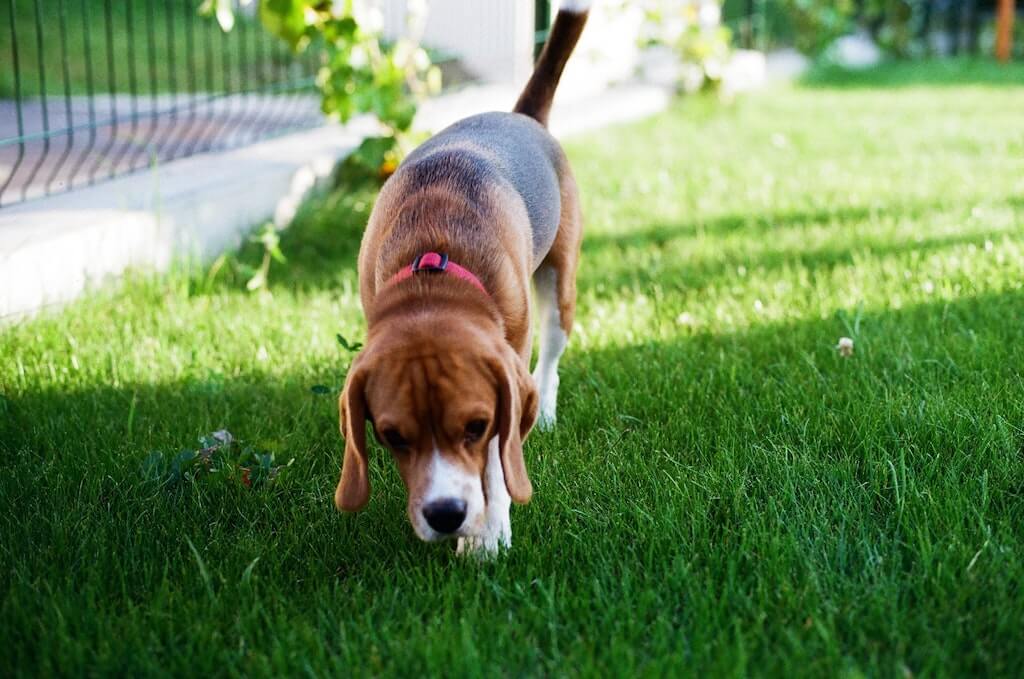 There is no doubt that having a dog has many benefits. Apart from being your loyal friends, dog help reduce anxiety, stress, and depression. Also, dogs will encourage you to be active more and spend more time outdoors. But, just like human beings, dogs have their biological needs and they need to urinate. You can easily train the dog on where to urinate but things get more complicated if you own artificial turf. There is a big chance that your dog will mistake it for real grass and urinate on it. So if that happens you are probably wondering how to get dog pee out of artificial turf. The easiest way is to contact professional cleaning services such as Peak Services. But there are other solutions and methods that you can do on your own. Read this article and keep your artificial turf clean from dog urine.
Why does dog pee cause bad smells?
Although dog urine won't damage your turf like it does natural grass, it also doesn't seep into the ground below as effectively. Over time, urine builds up, causing the smell to become stronger and more unpleasant. This is because, whereas 95 percent of dog urine is water, the rest is urea, uric acid, and ammonia. Uric acid is particularly problematic because it's made of salt crystals that don't decompose on their own and that smell worse when the weather is hot or humid.
Simply washing away dog pee is no good, as some of it remains beneath the blades of the turf. Furthermore, trying to hide the smell will eventually be ineffective: you need to use a product that breaks down the components in the urine to destroy the odor permanently. And if want to spare some time you can always hire one of the artificial turf maintenance companies. Certainly, they will have products that are needed to clean dog pee and remove the smell.
What cleaning supplies will you need in order to get dog pee out of artificial turf?
The good news is that, unlike real grass, artificial turf will not absorb a dog's urine. Just like rainwater, it will drain away and it will not damage your artificial grass. Still, there are some products that you should use in order to maintain your artificial turf and eliminate the odor created because of dog urine.
Use water
In order to get rid of dog pee on the artificial turf you should use water. Just like when cleaning any other surface water is the best product to keep things clean and neat. Once your dog is done urinating take a bucket of water and splash it over that area. Even though artificial turf will not absorb the urine it is better to prevent the odor that can be spread caused by urine. Also, if you are located in Las Vegas it is a good idea to hire pressure washing Las Vegas services as a part of your annual maintenance. Pressure washing can be used on many parts of the house and has many benefits. Undoubtedly, removing dog pee from your artificial turf is definitely one of them.
Use artificial turf cleaner
Whether you need supplies for residential solar panel cleaning or for artificial turf cleaning you will need to do the research in order to find what products are best to avoid any damage. When it comes to artificial turf apart from the water there are many artificial turf cleaning products that you can use to get rid of dog pee. And the main advantage of using artificial turf cleaners is that they will help you get rid of the smell as well.
In order to get the cleaner you don't even have to spend money as you can make it at home. You can mix soap and water, vinegar and water, or baking soda, and find which one works best for your artificial grass. On the other hand, if you decide to use store-bought cleaner make sure that you find one that is non-toxic and that is safe to use both inside your home and outside on your patio.
Homemade artificial grass cleaners are safer to use, especially if you have children around and of course, because of your dog. But rest assured that both options will help you clean the surface of the artificial grass and remove the odor left from the dog's urine.
Other tools that you'll need to clean your turf of dog pee
Whereas synthetic grass does offer great drainage and rain will wash away some dog pee, traces of urine will stick around and cause bad smells. Let's look at the steps on how to clean fake grass of dog urine to prevent those odors and to ensure you keep enjoying your turf. You only need a few things to rid your artificial grass of dog pee:
Paper towels
A hose
Deodorizer — you can buy a product or make your own
3 Steps to Clean Fake Grass of Dog Pee
After you prepare artificial turf maintenance tools you will need to follow some steps on a regular basis. Only if you maintain your turf regularly and on daily basis you will be certain that there will be no bad odor spread around your home.
Step 1: Soak up dog pee with paper towels
Paper towels will be your main allay if you have artificial grass. You will need them to clean after your dog or if you have problems with bird droppings on your property. When it comes to getting rid of birds from your property in Las Vegas best option is to use the bird control services Las Vegas has. But on the other hand, when it comes to your dog you should take care of it on your own. So, whenever you see that your dog is peeing on the turf, mop up the urine straight away with paper towels. This will ensure that only a minimal amount soaks into the fake grass. Also, there will be no unpleasant smell or risk of stains on your artificial turf.
Step 2: Hose down the entire turf
There are many benefits of using artificial grass for sports facilities but also there are advantages when using it in your patio as well. So if you are using artificial turf outside of your home you should occasionally hose the entire turf. Attach a deodorizer product to a hose and spray the entire turf. Do this at least once a month (it's better to do it every week) and spend extra time in places where your dog tends to pee. This should be a part of your regular maintenance, especially if you own a dog or any other pet that might be urinating on your artificial turf.
Step 3: Give the deodorizer time to work
Allow the deodorizer 10 minutes to seep into your turf. For the product to work, the artificial grass needs to remain damp. For this reason, it's best to clean your turf when the weather is cool, such as in the early morning or late in the evening.
If this is not possible, an alternative is to mist your turf with cold water while the deodorizer works. Just make sure you don't soak the grass, as this could cause the deodorizer to seep out. After 10 minutes, rinse your turf.
Bonus Step: Cleaning dog poop off artificial grass
Since your dog may poop on your turf, it's also helpful to know how to clean artificial grass from dog poop. Scoop up the waste just like you would anywhere else and hose down the turf with water and deodorizer. You'll find that, just like with urine, the smell will start to become stronger after a while if you don't use a deodorizer and if you don't clean it right away. The odor of dog poop may spread even faster than the smell of urine so make sure to be responsible when it comes to the maintenance of your artificial turf. That way you will be able to enjoy yourself with your little friend in a clean environment.
Homemade turf deodorizer recipes
If you decide to make your own turf deodorizer, make sure you use appropriate ingredients. For instance, there's a myth that sand on fake turf is ideal for soaking up dog pee. In fact, you'll just end up with urine-saturated sand on your artificial lawn. As for recipes that do work, you have three main options.
The first is simply soap and water, which is a good choice for indoor turf. Use a mild, neutral (non-acidic) soap, preferably laundry detergent or carpet cleaner — these are better than dish detergent. Combine one tablespoon of soap with four cups of water.
Your second option is to use equal parts vinegar and water. This is effective at removing pee odors, but it will result in your turf smelling like vinegar unless you rinse it well.
Finally, baking soda works well on artificial grass, but it requires a slightly different cleaning method. Sprinkle a generous amount of baking soda on all areas of the turf that smell bad and allow it to remain for at least one day. The baking soda has cleaning power and it will also soak up any moisture on your artificial lawn. After one day has passed, you can sweep away the baking soda or just leave it, since it's environmentally friendly.
How to clean artificial grass of dog urine with a pet odor eliminator
An alternative to making your own deodorizer is to purchase a ready-made product. These are more effective and less hassle. Make sure you choose a product that is designed specifically for artificial turf and that is enzymatic — the enzymes in the product will break down the components in dog pee and poop that are creating the bad smells.
As already mentioned, it's also important to choose a natural product since you don't want to leave any remnants of chemicals on your turf that could harm your dog. Lastly, it can be helpful to search for a product in a spray bottle with a hose attachment. Otherwise, you'll need to transfer the product to a suitable bottle.
Maintain your turf with regular professional cleaning service
As you can see, there's nothing complex about cleaning your turf, but it does take some time. In particular, maintaining artificial grass yourself can require a large commitment if you have more than one dog using the turf as a bathroom or if your dog uses your turf frequently throughout the day. In these cases, it may be necessary to clean weekly rather than monthly. The solution could be to receive a professional cleaning service on a regular basis instead. Professionals have all the tools and products to keep your artificial grass free of any unpleasant smell. Also, they will be able to advise you on how to maintain it by yourself and what are the most effective ways to use it in order to get the dog pee out of your artificial turf.
Cleaning after your dog doesn't have to be a challenge
It is true that it might seem like a time-consuming task to clean the artificial turf every time your dog urinates. But this is the best solution to avoid any unpleasant smells and to keep your artificial turf clean. It might sound time-consuming but it is a simple process. So just follow our steps on how to get dog pee out of artificial turf and use recommended products. That way your artificial grass will not get damaged and you and your dog will be able to enjoy a clean environment.