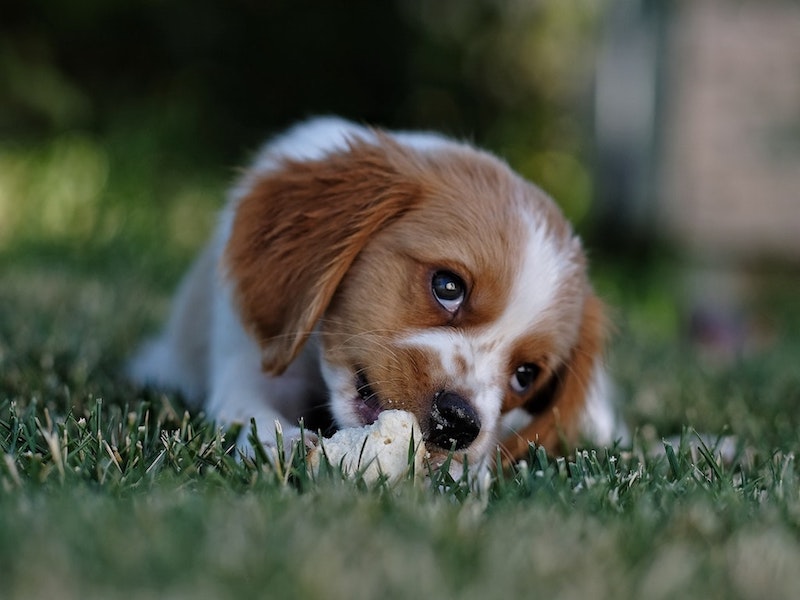 Having a dog has many benefits for our mental and physical health. They help us reduce stress, but also make us more active. And if you own a patio you certainly enjoy watching your dog running around and playing. But, they also use your patio to urinate. It might be challenging to maintain your lawn and your home after dog urination or to clean marks off the dirty paws. For that reason, many dog owners decide to use artificial turf instead of real grass. The main advantage is that you will not have to spend much time cleaning it and you can delegate the maintenance of the artificial grass to a professional cleaning company such as Peak Services. But is artificial turf good for your pets? Read this article and find out what are the benefits of fake grass and is artificial turf safe for dogs.
Benefits of artificial turf
People choose artificial grass for a variety of reasons — including the low upkeep, better aesthetics, and comfort of having bug and dirt-free turf. Also, it is highly durable and resistant to any weather conditions. And when it comes to maintenance it will take you no time. On the other hand, there are many artificial turf maintenance companies that can take care of your artificial grass and give you advice on how to clean it on regular basis. Generally speaking, having artificial turf indoors or outside on your patio has many benefits for you, and for your dog as well.
So is artificial turf safe for dogs?
Most concerns about artificial grass are due to reports from several decades ago when standards were less strict than they are today. In particular, studies found that some types of turf contained dangerous levels of lead. However, since 2008, all the major turf manufacturers have signed agreements that guarantee their artificial grass will contain no detectable traces of lead. In fact, not only is artificial turf completely safe for dogs, it's often better for your pets than natural grass. Artificial turf is free from many chemicals that people often add to their lawns, like fertilizer, herbicide, and pesticide — all of which can be toxic to dogs.
There's always a risk that your lawn is contaminated with some of these chemicals since they can remain in the soil for many years. The person who lived in your home before you could have treated the lawn with these chemicals or the landscaping company you contract may be less than diligent about using only natural products. Furthermore, some dogs are allergic to real grass or things in the grass, such as mold or mildew. It's easy to find artificial grass that's allergen-free — which is beneficial for both dog and human family members.
A final factor when it comes to the benefits of artificial turf for your dog is that it's easier to lay artificial turf flat. An experienced installer will sculpt the subsurface and pay attention to edges and seams to ensure the turf is leveled. This prevents tripping hazards, allowing your dog to play comfortably. Better yet, any falls are cushioned by the infill of the turf.
Benefits of artificial turf for dogs and dog-owners
Overall, artificial turf is eco-friendly. By having artificial turf in your yard you will use less water and fewer chemicals. Also, artificial turf creates less pollution which is good for the environment. But not only artificial turf gives many benefits to the environment but it has many advantages for your dog as well. Apart from being safe for your little pet, there are many more pros when having a dog and artificial grass in your backyard.
Having artificial grass means less digging
Not only is artificial turf more durable than grass — especially when faced with pets who are prone to leaving holes in the lawn — but properly installed turf is also less enjoyable for your dog to dig. You're likely to find your dog soon gives up trying and finds a different (less destructive) way to play. That means that there will be fewer holes in your patio and no mud to clean on your pathway or in your home.
A safe and pest-free environment
Due to the lack of soil, artificial grass is unwelcoming to all types of bugs, including fleas and ticks. You just need to make sure you remove leaves and other organic debris regularly to prevent giving insects anywhere to breed. This means that artificial grass makes a perfectly safe environment for your dog. You will not have to worry about its health or spend time taking your dog to the vet. Also, your home will be much cleaner because there will be no risk of your dog bringing any bugs into your home.
Artificial grass is comfortable for your dog
Because artificial turf is not slippery it will be much easier for your dog to play and run around the patio. This will ensure the safety of your dog because there will be no injuries. And on top of that, there will be no risk of fleas which will make your dog feel comfortable and safe on your patio. Artificial turf is soft, so you can rest assured that your dog will enjoy running and laying on the grass the whole day. And most importantly, you will not have to worry about your dog's safety.
Good drainage system
A good drainage system of artificial turf is a big benefit for you and your dog. And not only because the drainage system will ensure there is no excess water in your backyard, but also because your dog will be safe and there will be no risk of him slippering on the water. A good drainage system is important for you because your artificial grass will not absorb the urine of your dog. And your dog will enjoy it because it will create a cool, dry, and safe space.
Cleaning your patio is easier
If your dog defecates on your artificial grass, just pick up the poop with whatever you normally use and wash the turf with the same product you use for urine. You can even make your own cleaning products by using soap and water, or vinegar and water. And if you prefer to have more spare time to spend with your dog contact pressure washing Las Vegas services. They will ensure that your artificial turf is clean, odor-free, and safe for your dog to enjoy it.
Clean home
When your dog comes indoors after playing on the turf, you won't need to clean his paws. You can even give your dog the freedom to run in and out as he pleases, without running the risk of dragging dirt into the house. This means that you will not have to clean your house every day and that you will be able to spend your free time on other activities that you enjoy. As you can see having artificial turf instead of real grass has many benefits for you and your dog. Free time, cleanness, and safety are just some of them.
Does artificial grass burn dogs' paws?
Artificial turf often retains more heat than natural grass, which can be a concern if you live in a hot climate. Luckily, there are a couple of things you can do to protect your dog's paws.
One strategy is to lay blankets over the parts of your turf that are in direct sunlight. This will give your dog a comfortable place to play or lie on the turf. A better option, though, is to choose turf that has a specific type of infill to keep the surface temperature lower. In fact, if you have hot weather many days of the year, you should choose an artificial tuft designed for your climate, as you'll also need to prevent blades from melting when the sun is particularly intense.
Can dogs pee on artificial turf?
Artificial turf is designed to be durable. It can withstand your pet scratching it, trying to dig, and peeing. Urine won't damage turf like it does natural grass — you won't have any discoloration or bare patches. Much of the dog pee will drain away, but you will need to clean your turf regularly to prevent odors or the buildup of bacteria. It is also advisable to contact professionals to clean your turf not only because of your dog but to help you with bird prevention. Contact bird control services Las Vegas and ensure that there is no bird dropping on your artificial turf. This will create an even safer environment for your dog, since bird droppings may spread many diseases.
How to Clean the Turf from Dog Urine
Rainwater will rid your turf of some of that dog urine, but it will be insufficient to clean your artificial grass fully. Plus, although turf with antimicrobial infill will keep the number of bacteria low, periodic cleanings are still necessary to achieve completely bacteria-free turf.
The best solution is to use a product designed specifically to remove pet odors from artificial grass. If your dog always pees in the same place, you can use a spray bottle to clean just these parts of the turf.
To clean the entire area, affix the product to your garden hose using a spray attachment. Bear in mind that you should always remove debris before you apply any cleaning products to your turf. A rake or broom is ideal for a small area; a leaf blower may be better for a large yard. Lastly, you can always hire turf cleaning North Las Vegas services to help you maintain your artificial turf. Even though you should maintain it on regular basis, it is advisable to contact turf experts for an annual inspection.
Artificial turf vs natural grass
Natural grass vs artificial turf? It is certain that real grass has many advantages, but after everything mentioned above, it is undoubtedly better to have artificial turf. It is low maintenance, highly durable, and most importantly safe for your dog. So if you are thinking of installing fake grass on your patio, do not hesitate anymore. Artificial turf will give great pleasure to you and your pet.
The answer to the question – Is artificial turf safe for dogs? – is quite simple
You might be thinking that artificial grass is not safe enough for your dog. But that is not true. Because of all the reasons mentioned above, you can see that having artificial turf inside of your home and outside in the garden has many advantages. And it is beneficial both for you and your dog. So if you are still asking yourself is artificial grass safe for dogs the answer is YES. It is pest free, there are no chemicals and it is a non-slippery surface. So if you didn't do it until now don't wait anymore, install artificial turf and give your dog a comfortable playing zone.