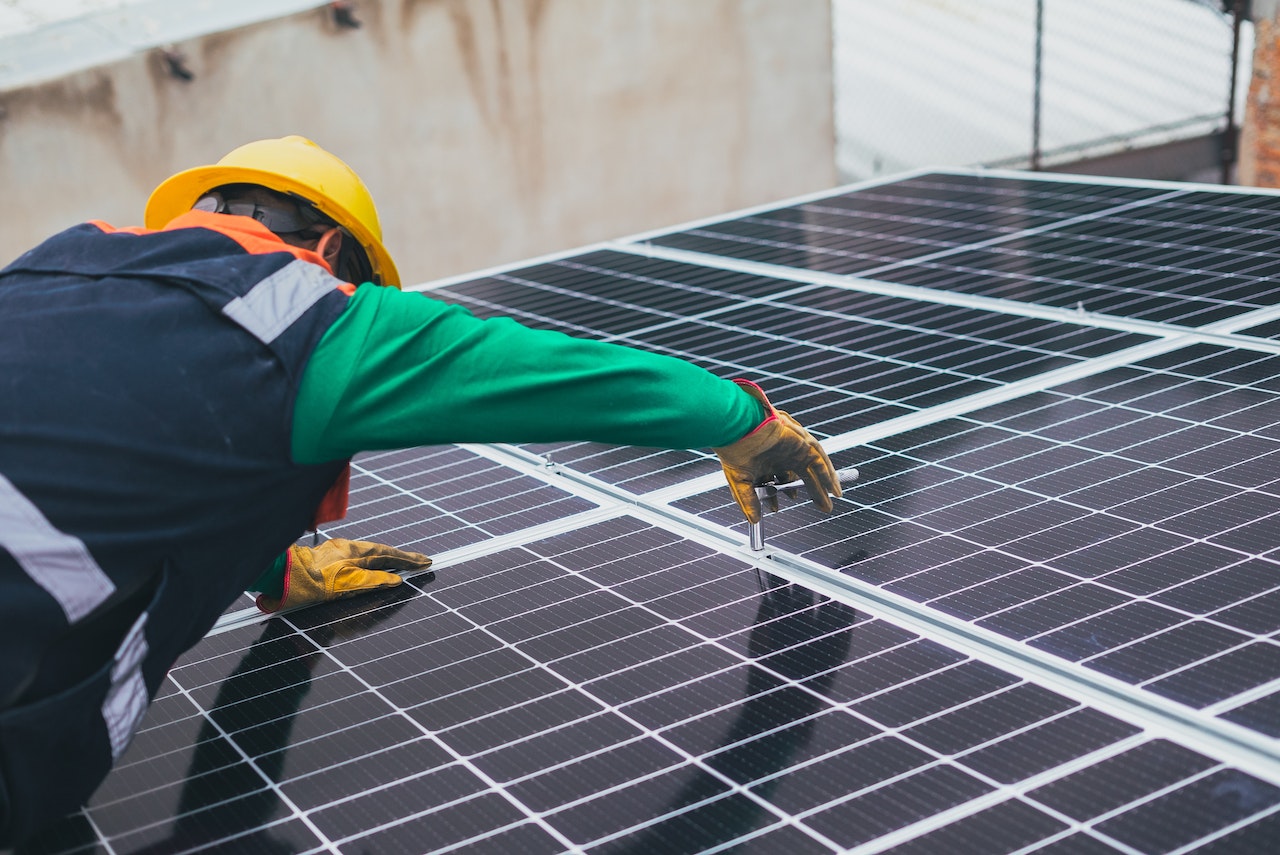 The state of Nevada has some of the strongest solar incentives in the country, and this, combined with the increasing popularity of eco-friendly lifestyles, has led to a surge in interest in solar power. While there is an initial cost to having solar panels installed on your house or company, your business could reap the rewards for decades to come. So, if you are wondering what the best places in Nevada to power your business with solar are, here are our top picks.
Top Cities for Solar Power in Nevada
As the price of fossil fuels shows no sign of slowing down any time soon, simultaneously, the cost of solar power continues to drop.
There are several factors at play here. The first is that solar energy is now a more practical and inexpensive option than ever before. What's more, several government, state, and municipal initiatives have allocated substantial funds to support and promote the growth of clean, renewable solar energy. We at Peak Services have long been using solar panels, and we can honestly say it is worth it.
And what better state for installing solar panels and going clean than Nevada? On top of the abundance of sunshine, all year round, in the state of Nevada, all solar panels are 100% tax-exempt. So, here are some of the best places in Nevada to power your business with solar:
Spring Valley
Las Vegas
Enterprise
Sunrise Manor
Henderson
1. Spring Valley
If you've ever passed through Spring Valley, Nevada, you've probably seen a good amount of solar panels atop houses and businesses. The city is in the heart of the desert, just 2 miles from the Las Vegas strip, and enjoys over 300 sunny days each year. The sun is an incredible resource, so it's no wonder that switching to solar power may lower your energy costs by the hundreds every month.
Tax Breaks and Rebates for Solar Power in Spring Valley
As we have already mentioned, all solar panel systems in Nevada are 100% tax-exempt. But apart from that, you will have access to some other benefits as well if you choose to switch to solar in Spring Valley.
In case you didn't know, solar panels will not only save you money but generate cash for you as well. If your energy needs are lower than what your system is able to supply, any extra energy will be sent back into the grid, and you will receive credits from your utility company.
There is a rebate program in Silver Spring that provides people $0.1475 per watt-AC for residential, business, or industrial solar panel installations on top of the money you'd make from net metering. Only residents of Nevada may take advantage of this fantastic initiative, though. You also have an affordable solar panel cleaning service in Green Valley NV that you can rely upon at all times.
2. Las Vegas
The city of Las Vegas, with its many neon signs and gambling establishments, is always buzzing with the sound of humming electricity.
Nevada is now a pioneer in the generation of renewable solar energy because of the state's abundant sunshine, which shines over Las Vegas and the rest of Nevada all year round.
Thanks to generous subsidies, homeowners in Las Vegas may save a lot of money by switching to solar power. It's eco-friendly, doesn't pollute the air, and helps you cut your ties to the power company. The combination of solar power and net metering might result in enormous financial rewards. You'll soon see that using solar panels to power your home is a good move on everyone's part. If you're worried about upkeep, solar panel cleaning in North Las Vegas is readily available.
3. Enterprise
Some of the greatest solar energy resources in the United States may be found in Enterprise, Nevada. The solar photovoltaic industry is expected to grow rapidly in this metropolis of 223,167 in the next years.
If you've been to Enterprise lately, no doubt you've seen a dramatic increase in the number of residences sporting solar panels. But would you care to join the trend?
Now, you may be asking yourself, "Is solar even worth the investment?" Our response is that "yes" would be an understatement. As a matter of fact, switching to solar power may be one of the smartest financial moves you ever make. You will only have to pay for solar panel cleaning service in Enterprise NV once every few months.
If you live in Enterprise, Nevada, you know all about the exorbitant cost of power. Keeping your home cool throughout the day likely accounts for a significant amount of your energy costs.
But what if the same solar energy could power your air conditioner at practically no cost at all? The good news is that you can make this a reality by having solar photovoltaic panels placed on your roof.
Very simply, the more sunshine you have, the more energy you can generate. That's why both homes and businesses may benefit from installing solar panels in Enterprise, Nevada.
4. Sunrise Manor
Sunrise Manor, Nevada, is maybe the best area in the United States to put money into solar panel installations. The population of Sunrise Manor has skyrocketed over the past few decades, from 44,155 in 1980 to 189,372 in 2010. If you are thinking about expanding your business, we highly recommend coming here. Because of the dramatic increase in the population, there are now many more buildings that may benefit from solar power.
Towards the east of Las Vegas, you'll find this city at the foot of Frenchman Mountain. Because of its location in a hot, dry desert, Sunrise Manor receives a disproportionate amount of sunlight compared to other American cities. This bodes well for the efficiency of the solar panels installed in the homes of the inhabitants of Sunrise Manor.
5. Henderson
Henderson, Nevada, is home to about 320,189 inhabitants as of the 2010 census. Rainfall totals in the city are pretty low, and snowfall totals are inconsistent but typically modest as well.
Sunlight is abundant here throughout the year. The citizens of Henderson, Nevada, are fortunate to enjoy the city's pleasant climate, which features roughly 300 days of abundant sunlight every year.
Ever wonder why everyone in Henderson seems so excited about solar energy? Did you glance up at the Henderson rooftop panels and think, "That's a good idea!"? The reality is that going solar is one of the finest long-term financial decisions you can make in light of the declining costs of solar panels, the availability of generous rebates and incentives in Henderson, and the abundant sunshine in the area. Moreover, solar panel cleaning in Henderson is not hard to come by, and the rates are cheaper than in some other cities.
Why Going Solar In Nevada Is a Smart Decision
There has never been a better time to consider installing solar panels in Silver State. Whether your motivation is to assist the environment or increase your ability to control your power cost. Or take advantage of a federal solar tax credit. Solar power is gaining momentum on traditional utilities as more and more individuals want to live off the grid. By 2030, Nevada hopes to produce half of its power from renewable sources. Choosing solar electricity and being at the forefront of a statewide trend is a bold move, so we're shedding light on some of the considerations that have led so many Nevadans to make the same choice:
Lower electricity bills
Solar energy rebates
Financial credit for net metering
Solar access laws
Added market value to the house
Lower your monthly electricity bill
Financial savings are a major incentive for switching to solar energy. On average, Nevadans spend $111 per month on power or $33,000 over a decade. After having solar panels installed, you will save money on your electricity bill starting with the second month. Your monthly power costs might be zero if you install a solar energy system. All you will have to pay for is commercial solar panel cleaning services from time to time.
Solar energy rebates
The upfront cost of going solar is drastically reduced by rebates and incentives, leading to huge savings over time. That's why you may get your money's worth out of solar panels in as little as five years. And Nevadans are in luck: our state and federal governments run several excellent programs.
A federal tax credit is available to those who install solar panels. You may deduct up to 26% of the price of installing solar panels from your federal income taxes thanks to the Investment Tax Credit (ITC). If your solar power system was erected in the United States and produced electricity within the country during the tax year in question, you may be eligible for the Investment Tax Credit (ITC). Keep in mind that the federal tax credit decreased to 22% by the end of 2022, although it still offers significant savings.
The state of Nevada doesn't run a solar rebate program. But certain companies, such as LG, provide their own solar incentives. NV Energy, the state's primary utility provider, provides two incentive rates for battery storage equaling up to 20% of the batteries' total installed costs.
Financial credit based on net metering
With net metering, the utility company will pay you for any excess power you produce. Other houses in the region can then benefit from pure solar energy. After June 2020, Nevada's Net Metering System moved into Tier 4, which means that customers who install solar panels at their homes or businesses will be eligible for credits equal to 75% of the retail price per unit of power they deliver to NV Energy for a period of 20 years. Compare that to the rates provided in many other states, and you'll see how exorbitant this one is.
Solar Access Laws
You are free to install solar panels and produce your own power without interference, thanks to Nevada's stringent ban on solar limitations. In Nevada, installing solar panels is not against the law and cannot be prohibited by a contract or other legal instrument such as HOA bylaws. Laws like this make it so that neither landowners, zoning boards, nor municipalities can legally stand in the way of someone installing solar panels. In Nevada, wherever you live, be it Summerlin, Reno, or Las Vegas, you and your neighbors can sign a solar easement to guarantee that your solar panels will always have adequate exposure to sunlight to produce power. You can also share your solar panel cleaning in Summerlin NV bill with your neighbor.
Adds to the market value of the house
The value of a home or building is increased if solar panels are installed. Lower energy costs are an added bonus for potential new occupants, whether a company or a family. According to a recent study, solar-powered homes sell faster and for a 17% higher price than comparable homes without solar panels.
SEIA ranks Nevada 6th in the U.S.
Based on various parameters, including its 18.24% share of solar power, 6,174 solar jobs, 4,244.9 total megawatts installed, and 79,097 current installations, the Solar Energy Industry Association (SEIA) ranks Nevada as the sixth-best state in the country in terms of solar energy. So, what are you waiting for? Find the best places in Nevada to power your business with solar and relocate.
Largest solar-powered economy
Nevada has the largest solar economy in the United States. We were analyzing data from the SEIA national rating, taking into account the state's employment creation, environmental protection, and overall solar generation. Over a decade ago, Nevada was the first to lead the way for this environmentally friendly movement. The Silver State North Solar Project in Nevada was the first large-scale solar energy project in the United States to receive approval in 2010.
Which of the places in Nevada to power your business with solar do you choose?
Whichever one of the places in Nevada to power your business with solar you go to, you will surely not regret it. Apart from having a lot of sunny days, all of these cities are great for expanding your business.